FIREPEN

is a self-sustained compact tool for instant cutting of different metal products. Combustion temperature is up to

2800

° C.
FIREPEN cuts metal products and constructions, such as armature, pipes, steel ropes and cables, fences up to 16-18 mm thick, angles, steel sheets (up to 3 mm thick and 80 mm long) etc. Bundle of 2-3 FIREPEN increases the power and the ability to cut thicker steel structures.
FIREPEN makes it possible to carry out welding of low-carbon steels, when other types of welding are not available. Strength of welded connections — 20 kg/mm.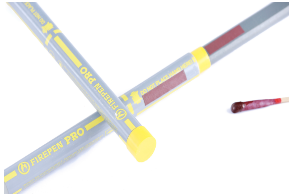 Usage
FIREPEN is irreplaceable in extreme conditions; during works of elimination of consequences of natural and industrial disasters; in absence of electricity; when electric or gas welding equipment is not possible to use. FIREPEN works under water!
Potential users of the proposed product can be army troops, fire departments, rescue services, maintenance crews, etc. The product can be used during operations in extreme conditions: accidents, fires, sudden natural disasters, debris removal, rescue operations, in the absence of electricity and no access to electric and gas welding equipment. The product is simple to use and does not require the skills of professional welders.